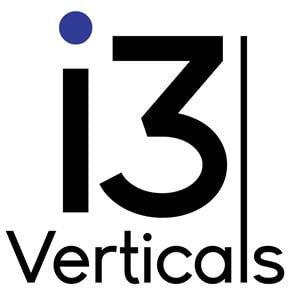 i3 Verticals (NASDAQ:IIIV) issued an update on its FY 2020
After-Hours earnings guidance on Monday morning. The company provided earnings per share guidance of $$0.91-0.97 for the period, compared to the Thomson Reuters consensus earnings per share estimate of $$0.92. The company issued revenue guidance of $$160-164 million, compared to the consensus revenue estimate of $$152.49 million.
IIIV stock traded up $1.69 during mid-day trading on Monday, hitting $27.82. The stock had a trading volume of 3,253 shares, compared to its average volume of 117,152. The company has a current ratio of 0.71, a quick ratio of 0.71 and a debt-to-equity ratio of 0.98. i3 Verticals has a 1-year low of $17.14 and a 1-year high of $31.44. The company has a fifty day moving average of $20.68 and a 200 day moving average of $23.77. The stock has a market capitalization of $609.84 million, a price-to-earnings ratio of 71.33, a PEG ratio of 1.15 and a beta of 0.36.
i3 Verticals (NASDAQ:IIIV) last issued its earnings results on Thursday, November 21st. The company reported $0.24 earnings per share for the quarter, topping the consensus estimate of $0.19 by $0.05. i3 Verticals had a positive return on equity of 14.87% and a negative net margin of 0.81%. The company had revenue of $40.57 million for the quarter, compared to analyst estimates of $38.20 million. During the same period in the prior year, the firm posted $0.19 EPS. The business's revenue was up 44.4% compared to the same quarter last year. As a group, sell-side analysts expect that i3 Verticals will post 0.78 earnings per share for the current fiscal year.
Several research analysts have weighed in on IIIV shares. Bank of America raised i3 Verticals from a neutral rating to a buy rating and set a $23.00 target price on the stock in a research report on Friday, September 27th. BTIG Research set a $31.00 price objective on i3 Verticals and gave the company a buy rating in a report on Thursday, September 5th. ValuEngine lowered i3 Verticals from a buy rating to a hold rating in a report on Wednesday, November 6th. Zacks Investment Research raised i3 Verticals from a sell rating to a hold rating in a report on Tuesday, October 15th. Finally, KeyCorp increased their price objective on i3 Verticals from $26.00 to $28.00 and gave the company an overweight rating in a report on Monday, August 12th. Two equities research analysts have rated the stock with a hold rating and four have assigned a buy rating to the company's stock. i3 Verticals has an average rating of Buy and an average price target of $26.40.
About i3 Verticals
i3 Verticals, Inc provides integrated payment and software solutions to small- and medium-sized businesses and organizations in education, non-profit, public sector, property management, and healthcare markets in the United States. The company offers payment processing services, including merchant onboarding, risk and underwriting, authorization, settlement, chargeback processing, and other merchant support.
Recommended Story: What are Bollinger Bands?