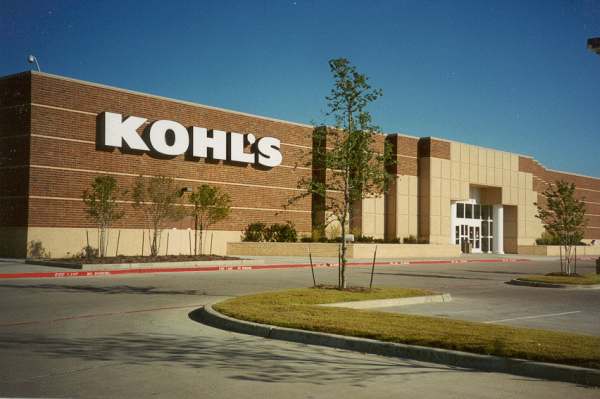 Kohl's (NYSE:KSS) issued an update on its FY 2019
Pre-Market earnings guidance on Monday morning. The company provided earnings per share guidance of $$4.75-4.95 for the period, compared to the Thomson Reuters consensus earnings per share estimate of $$5.19.
Shares of NYSE KSS traded up $1.67 during midday trading on Monday, reaching $48.67. 2,918,514 shares of the company traded hands, compared to its average volume of 5,000,656. The firm has a market cap of $7.49 billion, a PE ratio of 8.69, a PEG ratio of 0.97 and a beta of 1.07. The stock's 50-day simple moving average is $52.43 and its 200-day simple moving average is $51.14. Kohl's has a 12 month low of $43.33 and a 12 month high of $75.91. The company has a debt-to-equity ratio of 1.09, a quick ratio of 0.36 and a current ratio of 1.42.
Kohl's (NYSE:KSS) last issued its quarterly earnings data on Tuesday, November 19th. The company reported $0.74 earnings per share (EPS) for the quarter, missing the Zacks' consensus estimate of $0.86 by ($0.12). The company had revenue of $4.63 billion for the quarter, compared to the consensus estimate of $4.40 billion. Kohl's had a net margin of 3.50% and a return on equity of 15.19%. The firm's revenue was up 5.9% compared to the same quarter last year. During the same period in the previous year, the business posted $0.98 earnings per share. On average, equities research analysts expect that Kohl's will post 4.84 EPS for the current year.
The business also recently disclosed a quarterly dividend, which will be paid on Tuesday, December 24th. Shareholders of record on Wednesday, December 11th will be issued a dividend of $0.67 per share. The ex-dividend date is Tuesday, December 10th. This represents a $2.68 dividend on an annualized basis and a dividend yield of 5.51%. Kohl's's payout ratio is presently 47.86%.
A number of research firms recently issued reports on KSS. UBS Group lifted their price target on Kohl's from $47.00 to $49.00 and gave the company a neutral rating in a report on Monday, October 21st. Cowen set a $58.00 price target on Kohl's and gave the company a buy rating in a report on Monday, August 26th. Deutsche Bank cut their price target on Kohl's from $52.00 to $48.00 and set a hold rating for the company in a report on Wednesday, November 20th. Guggenheim reaffirmed a buy rating and issued a $60.00 price target (down from $70.00) on shares of Kohl's in a report on Wednesday, August 21st. Finally, Credit Suisse Group cut their price target on Kohl's from $51.00 to $48.00 in a report on Wednesday, November 20th. Three investment analysts have rated the stock with a sell rating, eleven have given a hold rating and six have issued a buy rating to the stock. Kohl's currently has an average rating of Hold and a consensus target price of $53.63.
About Kohl's
Kohl's Corporation operates as an omni-channel retailer in the United States. Its stores and Website offer apparel, footwear, accessories, beauty, and home products. As of February 3, 2018, it operated 1,158 department stores; a Website Kohls.com; and 12 FILA outlets, and 4 Off-Aisle clearance centers.
Further Reading: Profit Margin