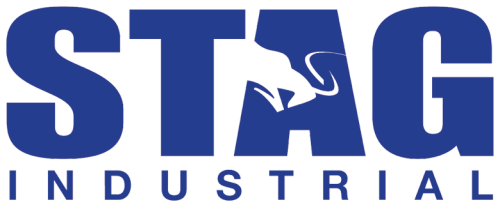 Stag Industrial Inc (NYSE:STAG) announced a dividend on Tuesday, October 15th, Fidelity reports. Investors of record on Friday, November 29th will be given a dividend of 0.1192 per share by the real estate investment trust on Monday, December 16th. The ex-dividend date is Wednesday, November 27th. This is an increase from Stag Industrial's previous dividend of $0.12.
Shares of Stag Industrial stock traded up $0.20 on Monday, reaching $30.63. 63,723 shares of the stock were exchanged, compared to its average volume of 827,960. The company has a quick ratio of 0.90, a current ratio of 0.90 and a debt-to-equity ratio of 0.73. Stag Industrial has a twelve month low of $23.24 and a twelve month high of $31.66. The firm has a market capitalization of $4.05 billion, a price-to-earnings ratio of 17.11, a PEG ratio of 4.17 and a beta of 0.86. The business has a 50 day moving average price of $30.54 and a two-hundred day moving average price of $29.99.
Stag Industrial (NYSE:STAG) last released its earnings results on Wednesday, October 30th. The real estate investment trust reported $0.07 EPS for the quarter, missing the Zacks' consensus estimate of $0.46 by ($0.39). Stag Industrial had a return on equity of 4.35% and a net margin of 19.96%. The firm had revenue of $102.42 million for the quarter, compared to analyst estimates of $100.78 million. During the same period last year, the firm earned $0.45 EPS. The company's revenue for the quarter was up 15.1% compared to the same quarter last year. Research analysts forecast that Stag Industrial will post 1.82 EPS for the current year.
In related news, EVP Jeffrey M. Sullivan sold 35,815 shares of Stag Industrial stock in a transaction that occurred on Wednesday, September 4th. The stock was sold at an average price of $29.37, for a total transaction of $1,051,886.55. Following the completion of the transaction, the executive vice president now directly owns 35,815 shares in the company, valued at $1,051,886.55. The sale was disclosed in a document filed with the SEC, which can be accessed through this hyperlink. 1.50% of the stock is currently owned by company insiders.
Separately, Zacks Investment Research upgraded Stag Industrial from a "sell" rating to a "hold" rating in a research report on Friday, October 4th. Four equities research analysts have rated the stock with a hold rating and two have assigned a buy rating to the company. The stock presently has a consensus rating of "Hold" and an average price target of $31.33.
Stag Industrial Company Profile
STAG Industrial, Inc is an industrial real estate operating company focused on the acquisition, ownership, and operation of single-tenant, industrial properties throughout the United States. The Company was formed as a Maryland corporation and has elected to be treated and intends to continue to qualify as a real estate investment trust ("REIT") under Sections 856 through 860 of the Internal Revenue Code of 1986, as amended.
Recommended Story: What is a Call Option?